Thomas Doty – Storyteller
What's Happening!
Where I'm At, What I'm Up To
Happy Winter! This season of long nights is the height of our traditional storytelling season.
After sauntering through the autumn countryside performing and teaching native stories, I am home in Ashland for the entire month of January, working on projects and doing local programs.
In the Spirit of Sharing Stories,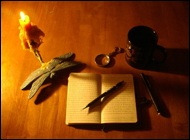 Upcoming Public Programs
---
---