Thomas Doty – Storyteller
Cultural Resources
Hundreds of cultural resources are available on this website. They are free because people who realize how useful and valuable they are help pay the bills. If you would like to contribute, here's how: Make a Donation.
---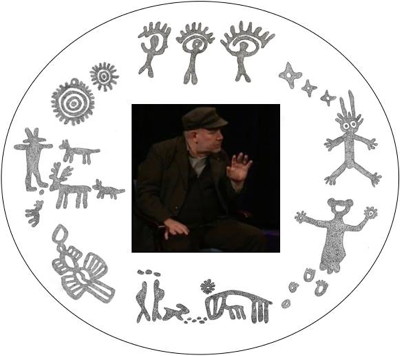 Thomas Doty's Library is the home of his writing. This includes traditional and original native stories, poems and prose poems, essays, and a play. Library visitors can also listen to stories or read native stories in Spanish, even contribute a story to Coyote & Friends. In addition, there is a Native Archives page with links to the complete texts of accurate sources on native cultures, including the works of Edwards Sapir, John Peabody Harrington, and many others. Looking for info about a specific person, story character, or place? The Library has its own search engine that allows you to search all of Doty's writing. Enjoy the journey!
---
Culture – Salmon, Bear, Villages
Want to learn about the Sacred Salmon Ceremony at Ti'lomikh? Take digital tours of Old Time native villages? Explore the seasons through moon names and the mythology of Great Bear in the Sky? This is the place! Here you can also find info on Eme'tek!iyikíkh (We Are Here), a native sculpture in Ashland, Oregon, and Upriver to Morning, a native story and educational project with author Tish McFadden.
---
In 1986, Thomas Doty co-founded Reading the Rocks, which he still co-directs. These pages describe his work to protect and interpret ancient rock paintings and carvings (pictographs and petroglyphs). Here are descriptions of sites with photos and drawings, essays on rock writings, and a print-friendly index of symbols. There is also a description with photos of the Medicine Rock Project, the stories behind Doty's logo and the Native Peace Tile, rock writing maps, and news articles.
---
Photos – Family & Sacred Landscapes
Learn about Thomas Doty's family through historic photos from the Doty Family Archives, or visually explore the sacred landscapes where Doty's stories take place. There are also photos of Doty from the 1950s to the present. Here are galleries with hundreds of photos!
---
Thomas Doty's stories align with educational standards, and are relevant across content areas. Here is an outline of CCSS in "teacher speak," with links to specific passages in Doty's writing that support key concepts.
---
Here is a print-friendly PDF flier you can share with friends and colleagues. It contains web addresses for accurate cultural resources available for free on this website. It is formatted 8½" x 11". File size is 2 MB.
---